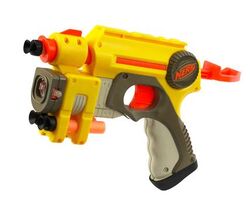 The Nite Finder EX-3 is a tactical pistol developed by Alvonian Weapons Systems for Task Force 589.
Design and Development
Edit
The Nite Finder EX-3 was created primarily to provide Task Force 589 with a reliable pistol for night missions. After going through several designs, the Nite Finder EX-3 was created, and was used in all the Task Force 589 missions by Ace, where it proved a huge success.
Mechanism and Users
Edit
The Nite Finder EX-3 is a small pistol that is used other than the Maverick. The laser in front of the trigger makes it very accurate. It is used primarily by Ace.
Ad blocker interference detected!
Wikia is a free-to-use site that makes money from advertising. We have a modified experience for viewers using ad blockers

Wikia is not accessible if you've made further modifications. Remove the custom ad blocker rule(s) and the page will load as expected.